By a Thread
by
Jennifer Estep
My rating:
5 of 5 stars
An adult urban fantasy novel. (NC-17 for the sexiness of it all)
Book Summary
When killing people is your job, there's no such thing as a vacation.
Then again, how often does an assassin live long enough to enjoy her retirement? In this line of work, you either get lucky or you get dead. And since I destroyed my nemesis Mab Monroe a few weeks ago, all of Ashland's lowlifes are gunning to make a name for themselves by taking out the lethal Spider—me, Gin Blanco. So I'm leaving behind my beloved barbecue joint and heading south with my baby sister, Bria, to cool my heels in a swanky beach town. Call it a weekend of fun in the sun.
But when a powerful vampire with deadly elemental magic threatens an old friend of Bria's, it looks like I'll have to dig my silverstone knives out of my suitcase after all. Complicating matters further is the reappearance of Detective Donovan Caine, my old lover. But Donovan is the least of my problems. Because this time, the danger is hot on my trail, and not even my elemental Ice and Stone magic may be enough to save me from getting buried in the sand—permanently.
My Review
I have to say that Jennifer Estep made me remember why I love this series with this book. So much so, I felt kind of lost when it was over wondering what I could read that would live up to this.
This is probably my favorite of the books next to the first or earliest ones that drew me in, in the first place.
Let me just say, that shamelessly, I wrote Jennifer after one of the books because of a certain event that left me in turmoil. Jennifer was kind enough to write back answering my question and my suggestion. I'm not going to take any credit other than, I guess I got what I asked for not exactly when and how I wanted it. But in the end, I think it was all for the best.
This was a great book that brought us back closer to how things were where this series began. It was refreshing to have a story without Mab. There was someone new in town. Or should I say Gin was in a new town. I'll let you guys read and figure that one out.
This to me is one of the best adult urban fantasy series I've read. For all you readers who like your action with a dash of romance, this is the series for you. Gin is a no holds bar kind of girl. She's not snarky all the time, but she certain has her quips when needed. I have to say my second favorite character in the series would be Finn. I love Finn. Early in the series I desperately wanted him and Gin to be together, but it shows you, that sometime the author knows better than the reader, lol.
If I had one complaint it would be that I wish Owen would be in the series more. Donovan was always in the action with Gin when he was in the series. Owen is always off on the side. I understand he lets Gin be who she is, but I still like my guys ultra strong. Maybe he can save Gin once. I don't know. Anyway, this was a great book.
Audio Review
Lauren Fortgang does a wonderful job with this series as usual. I don't think I could ever listen to anyone else do Gin. She has that character nailed. Lauren doesn't have a wide array of voices she uses in the series, however I never get confused as to who is speaking. Again, Lauren is as fantastic as the writing for this series. Love it.
My book boyfriend is Owen. (he's eyes and nose are exactly right, but work with me here, lol)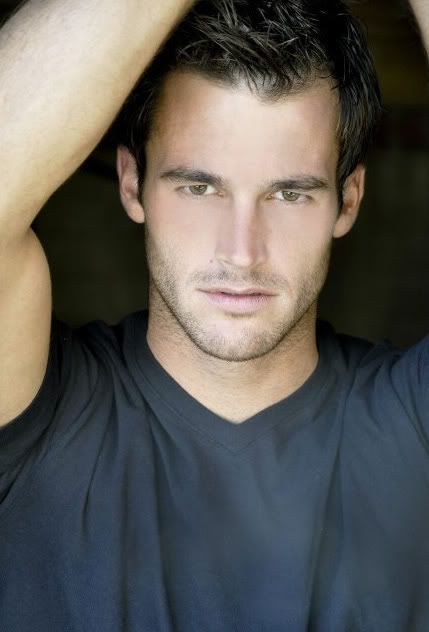 View all my reviews