Hot Hands
by
Erica Pike
My rating:
4 of 5 stars
This is a m/m romance/erotica novella.
Book Summary
For weeks, college student Casper has been the victim of sail-by goosing and groping. The problem is that Casper would very much like to get more than groped by those wonderful, big, hot hands. With a journal full of clues, he sets out to discover who his mystery groper is. However, he may be in serious trouble once he discovers the ominous identity, and it's not because of the light bondage the groper seems to prefer.
Hot Hands is the first of five in a series of short stories. Each story is independent of the others and each covers a deep issue. Hot Hands focuses on the effects of high school bullying for being gay.
My Review
I relieved this novella from the author in exchange for an honest review.
This was a lightning fast read, but frankly something I need that. It's like ordering an espresso. So what to say about this novella? I think the biggest thing I could mention is that this story is based around being bullied. And I think it is an important topic to discuss.
When I started reading this book I thought it was kind of cheeky, lol. But in the end, I thought that the message was powerful. More than anything ******spoiler******** because the story doen't start at the time when the bullying occurred, the reader can however see that Cass obviously survived because it was a couple years later. So that alone is important. That we didn't touch on his suicide attempts or that Cass doesn't mention that he is happy to have survived, maybe only because this was meant as a short short story. *****end od spoiler******
Also, *****spoiler****** for me it seemed quite easy for Cass to give up his virginity so blindly. But I am neither male nor gay, so I can't say this isn't possible or more norm than not??? Because this was a short story we don't learn as much as we might about the characters had the story been longer. ******end of spoiler******
But still I found this story really good and I quite enjoyed it immensely. Erica Pike has a way in this story to make things steamy and interesting.
Who do I chose for my book boyfriend. Now that would be too easy and give to much away. But I liked to think that this is the outcome.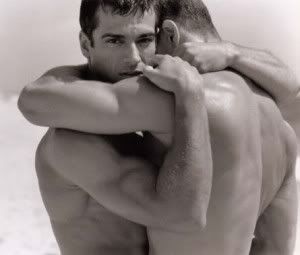 View all my reviews