Howl
by
Annalise Grey
My rating:
5 of 5 stars
This is a college age/adult paranormal romance.
Book Summary
Nineteen year old Sophie Matthews is a line-walker between two worlds - human and werewolf. She lives around humans but is never truly part of their world. That is, until she is spotted by a hiker.
What should have been a passing glance becomes so much more as Sophie falls for the one thing she is forbidden from ever having: a human mate.
Adding to her stress is newcomer Daniel, the arrogant wolf on Sophie's tail.
Then several humans are killed by a mysterious and dangerous beast within the pack's hunting grounds. The humans begin whispering of wolf-men roaming the forest and the threat of discovery looms heavy around the pack.
Everything is falling apart and Sophie realizes just how little control she has over her future.
Will she risk everything - her heart, her family, and her safety - for a chance to control her own fate?
My Review
I received this book from the author in exchange for an honest review.
Wow, what a book. It is amazing what talent and imagination there is out in the world. So this story was really good and I'm itching to get my hands on the sequel. I haven't read a lot of solitary werewolf stories, but this was as good as or maybe better than some.
I was capture in a world of forest and wildlife. I could visualize as I went along. Sophie's world was rich with characters. Some of which we didn't get to know well, but I didn't find that to distracting. Tristan, Sophie's brother, owns my heart. But Jamie and Daniel weren't too far behind.
Although this wasn't a short story, it was a quick read. I did however have a few questions.
**********Spoiler***************
• A few pop culture references were made by Sophie though she claimed to not watch tv or movies. I was thrown for a bit, but later then it was mentioned that Sophie had gone to the movies with her brother Thomas and maybe earlier it was mentioned that she may have with a high school friend Emily as well. But then it was weird that it was pointed out that she wouldn't know about movies or actors when mentioned. Yet, one reference was made to Texas Chainsaw Massacre movie??
• It wasn't really made clear about previous relationships. In fact, it seemed like she didn't because when talking to Thomas and Tristan, she never mentioned dating a human. Yet it was clear she and Jamie had sex. No big deal was made about it being her first time however. Nothing was mentioned about other wolves that she could have dated either. And at home all the unmated males were family. So it was quite odd, that she seemed to have sex so causally without it being mentioned it was her first time.
************End Spoiler*************
Overal, I give it 4.5 stars. Really good and I recommend to paranormal romance lovers. There are very mild sexual scenes with little or no description, so there is no worry.
Despite what I said above, my book boyfriend is Jamie and I'm rooting for him. If you want to know why, you'll have to read.
Jamie
And I'll thrown in Daniel because well, you have to read.
My heart belongs to Tristan though.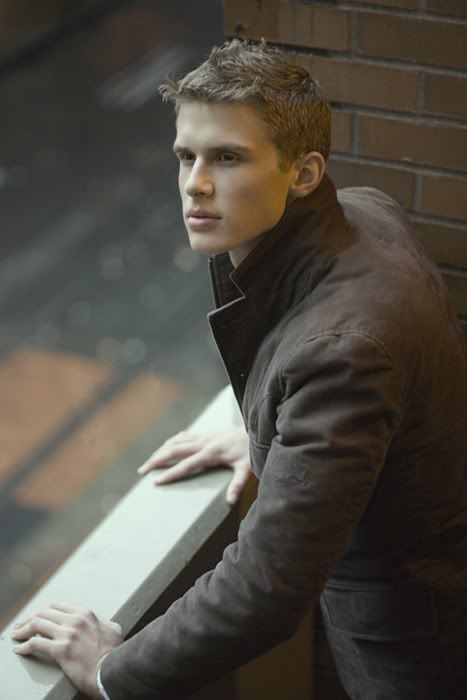 View all my reviews